This is easy.

What you'll need:

1 lb large shrimp, peeled and deveined
Small bowl of pancake mix (I use Krusteaz)
1 bag shredded coconut

Mix pancake batter according to directions on box. Mix bag of coconut into the pancake batter. Dip each shrimp into the batter and drop into hot oil. Fry until golden. It's very good dipped in orange marmalade sauce.

Cost:
1/2 lb 30/40 shrimp - $2.50
pancake mix - $1.69
shredded coconut - $2.25/bag
Total - $8.25

Submitted by Les Proctor

Orange marmalade sauce

What you'll need:

3 c orange juice
½ c orange marmalade
¼ c brown sugar
1 Tbl cornstarch
1 Tbl water
1 tsp vanilla
1 tsp butter

Bring orange juice to a boil in a saucepan. Reduce heat to medium and cook 20 to 30 minutes. Add marmalade and brown sugar. Using a whisk mix well until smooth. Mix together cornstarch and water in a separate bowl. Stir into sauce and continue simmering and stirring an additional 1 minute. Remove from heat and stir in vanilla and butter. Let cool for just a couple of minutes. It's better served warm. It can be kept up to 4 days in the refrigerator in an airtight container.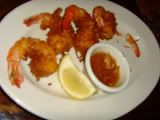 Cost:
orange juice - $2.99/gallon
marmalade - $2.12
brown sugar - $1.89/ 2 pound bag
cornstarch - $1.29
vanilla - $2.25
Total - $2.99