I love food that looks as good as it tastes and this is definitely one of those recipes. It's perfect for company too.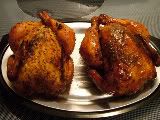 4 Cornish game hens, washed
3 carrots
2 onions
1 stalk of celery
1 red bell pepper
1 green bell pepper
1 orange
Desired seasonings
Chop the carrots, onions and peppers into large chunks and place in the bottom of a roasting pan. Slice up the celery and add it to the pan. Place each bird side by side on top of the vegetables. Sprinkle with desired seasoning. I just use a season salt/brown sugar rub (equal parts of salt and sugar). Cut the orange into wedges and place one wedge into each hen. Place in a 450 degree oven and cook for 45 minutes. The hens will be nice and crispy! Remove from pan and serve. This is great with cornbread dressing or
cornbread salad
. Serves 4.
Cost:

Cornish game hens - $2.50/lb
carrots - $0.89
onion - $1.12
celery - $0.99
bell pepper - $0.90
oranges - $2.25/bag
Total - $14.10