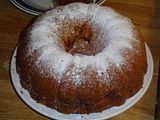 This is a great cake to take along to a holiday party this year.
What you'll need:
1 lb. cake flour
2 tsp. baking powder
1 lb. sugar
1/2 lb. (2 sticks) butter, softened
1 wine glass of white wine
1 1/2 lbs. raisins
6 eggs, separated*
1 tsp. nutmeg
1 qt. (4 cups) pecan pieces
Powdered sugar
Preheat oven to 275 degrees. Grease and flour a bundt pan (tube pan) and set aside. Cream the butter and the sugar until the sugar is dissolved (this takes about 20 minutes of mixing and the mixture is no longer white). Sift flour and baking powder together. Beat in egg yolks, one at a time, alternating with flour/baking powder mixture. Add wine. Fold in pecan pieces and raisins. Beat egg whites until stiff peaks form and then gently fold them into the batter using a rubber spatula. Pour into prepared pan and bake 4 hours. Remove from pan when completely cooled. Sprinkle with powdered sugar.
*Allow the egg whites to come to room temperature to get better results.
Cost:
flour - $2.12/5 pound bag
baking powder - $2.38
sugar - $1.99/4 lb bag
butter - $1.79/lb
wine - $3.50/bottle
raisins - $1.12/box
eggs - $1.09/ dozen
pecans - $3.00
Total - $8.36