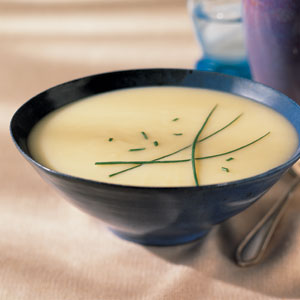 Ireland and potatoes have a long history, so it's fitting to celebrate St. Patrick's Day with this intensely flavored soup. This recipe comes from Swanson.
2 tablespoons butter

4 medium green onions, sliced (about 1/2 cup)

1 stalk celery, sliced (about 1/2 cup)

1 3/4 cups Swanson® Chicken Broth (Regular, Natural GoodnessTM or Certified Organic)

1/8 teaspoon ground black pepper

3 medium potatoes, sliced 1/4-inch thick (about 3 cups)

1 1/2 cups milk
Heat the butter in a 3-quart saucepan over medium heat. Add the onions and celery and cook until they're tender.
Stir the broth, black pepper and potatoes in the saucepan and heat to a boil. Reduce the heat to low. Cover and cook for 15 minutes or until the potatoes are tender.
Place half of the broth mixture and half of the milk in a blender or food processor. Cover and blend until smooth. Repeat with the remaining broth mixture and remaining milk. Return to the saucepan and heat through. Serves 5.
Cost:
butter - $2.38
small onions – $1.50/bunch
celery - $0.99
chicken broth - $1.89
potatoes - $3.77/5 lb bag
milk - $1.78/gallon
Total - $4.15