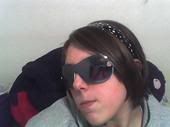 That's my beautiful daughter Christina who turns 20 today :) In honor of her birthday, I thought I'd tell you her top 5 favorite meals which she insists I make all of when she gets to Georgia for a visit! Click on the links to see how she likes them made...
1. Calzone made with ranch dressing, Italian sausage, pepperoni and lots and lots of cheese.
2. Meatloaf served with brown gravy, corn, mashed potatoes and buttered bread.
3. Enchiladas served with refried beans and YELLOW rice :)
4. Lasagna served with mozzarella sticks and garlic bread
5. Frito Pie
I can't wait to cook all these foods for her...and little Braedon who will be here by then! Happy, happy birthday baby ♥ I love you!