To continue with my Halloween recipes (2 more days!), I decided to share this recipe with you that came from my Campbell's Kitchen® newsletter. If you are a pasta and cheese lover like I am, you'll love this recipe! And don't worry, there aren't any real eyeballs in it :)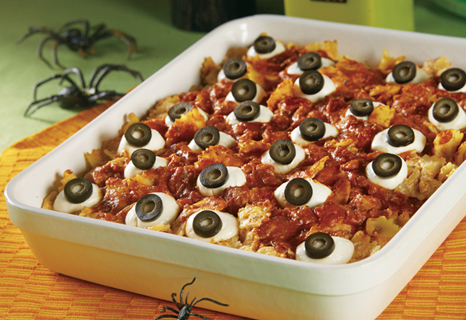 What you'll need:
Vegetable cooking spray
1 jar (24 ounces) Prego® Italian Sausage & Garlic Italian Sauce or 3 cups your own Italian sauce
1 container (15 ounces) part-skim ricotta cheese
3/4 cup grated Parmesan cheese
7 cups bow tie-shaped pasta, cooked and drained
1 container (8 ounces) small fresh mozzarella cheese balls (about 1-inch)
2 tablespoons sliced pitted ripe olives
Spray a 13 x 9 x 2-inch shallow baking dish with the cooking spray. Mix 1 1/2 cups of the sauce, ricotta cheese, 1/2 cup Parmesan cheese and pasta in the prepared dish. Spread the remaining sauce over the pasta mixture. Sprinkle with the remaining Parmesan cheese and cover the dish with foil. Bake at 400°F. for 25 minutes or until hot and bubbling. Arrange the cheese balls randomly over the pasta mixture. Place a sliced olive on each cheese ball. Let stand for 10 minutes before serving. Makes 8 servings.
RECIPE TIPS
Easy Substitution:
If fresh mozzarella cheese balls are not available, substitute 1 package (8 ounces) fresh mozzarella cheese. Cut crosswise into thirds. Cut each third in 6 wedges, for triangle-shaped eyes.
Cost:
Italian sauce - $3.56
ricotta cheese - $2.89
parmesan cheese - $2.19
pasta - $1.12
mozzarella - $3.29
olives - $1.29
Total - $11.45