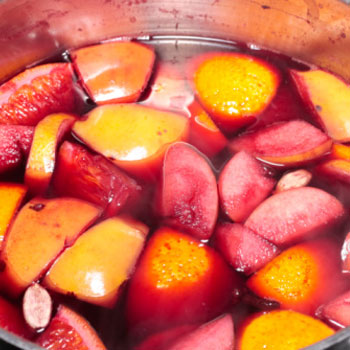 If you know me, then you know that I am not a big drinker. I don't find anything wrong with alcohol, I just don't like it very much. Every now and then (like once a year...I know, I'm boring lol), I'll have a drink. Wanna know how boring I really am? The drink has to follow these rules: 1. It has to be some kind of clear alcohol (vodka, gin, rum...you get the idea), 2. It can't taste like alcohol and 3. I prefer something fruity. It should be no surprise after I told you that that I love Sangria! This recipe came from a Daily Recipe email that I get from MyDailyMoment.com. Enjoy!
What you'll need:
1 lemon, sliced
1 orange, sliced
3 tbsp. brown sugar
1 (1.5 fluid oz.) jigger vodka
1 (1.5 fluid oz.) jigger Cointreau or triple sec
1 (1.5 fluid oz.) jigger gin
1/4 cup orange soda
1/4 cup lemon-lime soda
3/4 cup pineapple juice
3/4 cup orange juice
1 cup ice cubes
1 (750 milliliter) bottle of dry red wine
Place the lemon, orange, and brown sugar in a large pitcher. Pour in vodka, Cointreau, gin, orange soda, lemon-lime soda, pineapple juice, and orange juice. Add ice cubes and pour in red wine; stir well until the sugar has dissolved. Serve immediately.
Cost:
lemon - 99¢/3
orange - $2.69/bag
brown sugar - $1.29/1 lb
alcohol - $7.50/all four
soda - 89¢/1-liter
pineapple juice - $2.69/gal
orange juice - $2.46/gal
Total - $6.58