Counting today, it's 13 days until Thanksgiving! Woohoo! I ♥ Thanksgiving! So I thought I'd post some good holiday dishes between now and then. Don't forget that there are already great holiday dishes that you can find on my sidebar under "Find by type of recipe"/Holiday dishes and "Find by occasion"/Thanksgiving. Today's recipe comes from Campbell's Kitchen.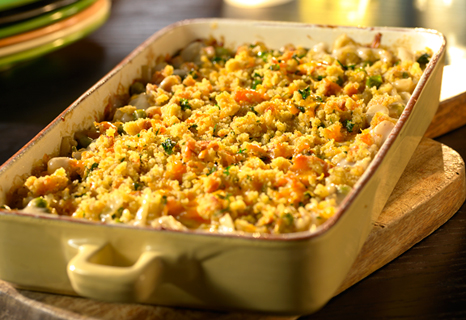 What you'll need:
1/4 cup (1/2 stick) butter
1 1/2 cups Pepperidge Farm® Cornbread Stuffing
2 tablespoons chopped fresh parsley or 2 teaspoons dried parsley flakes
3 large onions, cut in half and sliced (about 3 cups)
1 can (10 3/4 ounces) Campbell's® Condensed Cream of Mushroom Soup (Regular or 98% Fat Free)
1/4 cup milk
1 cup frozen peas
1 cup shredded Cheddar cheese (about 4 ounces)
Heat half the butter in a 1-quart saucepan over medium heat until melted. Remove the saucepan from the heat. Add the stuffing and parsley and mix lightly. Heat the remaining butter in a 10-inch skillet over medium heat. Add the onions and cook until tender, stirring occasionally. Stir the soup, milk and peas in the skillet. Spoon the soup mixture into a 2-quart shallow baking dish. Sprinkle with the cheese and the stuffing mixture. Bake at 350°F. for 30 minutes or until the mixture is hot and bubbling. Feeds 6.
Cost:
butter - $2.38
stuffing mix – $1.09
onions (3 lbs) - $1.99
cream of mushroom soup - $0.88
milk - $1.78/gallon
frozen peas – $1.68
cheddar cheese block - $3.98
Total - $6.43*
*No offense to Campbell's but I use generic products and my cost reflects that.